By Christina Wilton, Dragonfly Thrive Smoothies are very simple - start with 3 key components: greens, fruit and liquids. But this will leave you with a delicious smoothie that is a little high on natural sugars. Whenever you can, lower the blood sugar kick by adding protein and fat to your smoothie. All it takes is a couple tablespoons of nut butter, seeds or a protein powder. If you are already taking the time for a fresh nutritious gift to your health, why not add a super boost of anti-oxidants, anti-inflammatories or adaptogens. It can all be simplified as follows:...
---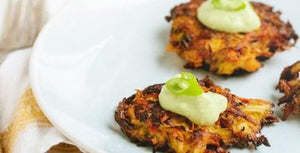 Image and article: Kitchen Daily Prep Time: 15 minutes Cook Time:15 minutes Yield: 8 fritters   INGREDIENTS 2 kohlrabi 1 carrot 1 egg ¼ teaspoon kosher salt ¼ teaspoon cayenne ½ cup grapeseed or vegetable oil (enough for ¼-inch depth in a large skillet) INSTRUCTIONS Cut the leaves off the kohlrabi and peel the bulb. Peel 1 carrot. Shred the vegetables in a food processor, or by hand using a grater. Squeeze the shredded vegetables in a tea cloth (or with your hands) to remove moisture, then add to a medium bowl with the egg, kosher salt, and cayenne. Mix to combine. Place the...
---
Image & article: fruitsandveggies.org The Endive Dipper! Replace crackers with endive leaves and enjoy with tuna salad, chicken salad, or any of your favorite vegetable dips. Try them with our Carrot Tuna Vegetable Dip. An Appealing Appetizer. Place endive leaves in a circular shape (make 2 layers) and top with grapes and walnuts. Drizzle light vinaigrette on top and you're done! Your guests will thoroughly enjoy. Endives Instead of Lettuce. Anywhere you would put lettuce you can put endive leaves! They're great on top of deli sandwiches or panini … or in this Corner Kick Pita Pocket. Turbocharged Stir-Fry. Easily increase vitamins and minerals...
---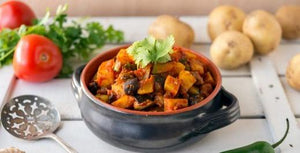 (Image credit: Fork over knives) Adopted by Ray. Ingredients1 medium purple eggplant, un-peeled, cut into 1/2″ cubes2 medium russet potatoes, peeled and cut into 1/2″ cubes4 medium tomatoes cut into 1/2″ cubes2 tablespoons chopped cilantro1 tablespoon oilPinch of asafetida or mix small garlic and diced union1 teaspoon cumin seed1 chopped green chili adjust to taste1 teaspoon ginger paste1 tablespoon coriander powder1/2 teaspoon turmeric1/2 teaspoon paprika1 teaspoon salt, adjust to taste2 tablespoons waterI use 5 tablespoons of oil but you can use more to fry Instruction:1. Heat the oil in a frying pan over medium high heat. 2. Frying pan should...
---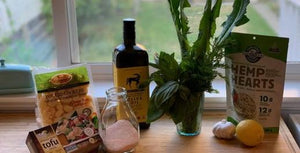 By Christina Wilton, DragonflyThrive Health The harvest box keeps building a meal plan for me – seasonal and fresh. This week I saw dandelion greens and heaps of basil and knew tonight's dinner would be… Pesto! Rounded out with some gnocchi and smoked tofu (found at West Wood, of course) and I had a quick and nutritious dinner. Pesto has endless combinations and it's a great way to get fresh, and fibre-rich greens into your dinner – and it's ready so quickly. Tonight's pesto I used about 3 leaves of these big beautiful dandelion greens, 2 carrot tops (can we...